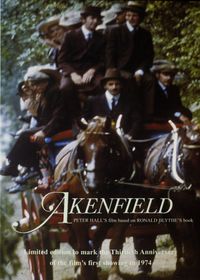 Every now and then someone contacts us at Old Pond to ask if we can supply a DVD of the film Akenfield. I wish we could, but we can't.
However, we understand that a supply of the 2004 Limited Edition DVD is held by the manager of the Aldeburgh Cinema, Dave Gregory. He can supply copies at £17.50 plus £1 post and packing (UK). The contact is dave@davegregory.net
Akenfield (1974), based on the book of the same name by Ronald Blythe, explores changes and continuities in a Suffolk village. In the 1970s young Tom is struggling to decide whether or not to leave. While he wrestles with his future he continually encounters his dead grandfather who, sixty years earlier, also tried to leave - but failed.
Peter Hall used local villagers as actors, with improvisation. Among the stars was Peggy Cole of Charsfield whose 'Akenfield' garden later raised much money for charity. She remains the 'country girl at heart' contributing to local radio and newspapers.