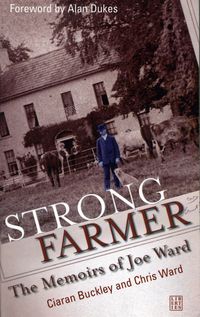 Strong Farmer: the memoirs of Joe Ward by Ciaran Buckley and Chris Ward, paperback book, 192 pages including 16 pp photographs, published 2007 (by Liberties Press) is now IN STOCK at Old Pond at £7.95.
Ciaran Buckley uses interviews which Chris Ward conducted with her father Joe to view recent Irish history through the lens of one prominent family. He brilliantly weaves together the threads of history and family memory to tell a tale of farming, politics and unbreakable family ties.
The term 'strong' is broadly applied to Catholic farmers in the east of Ireland who ran large farms with power and influence. When prices permitted they concentrated on cereals; at other times they reared and traded in cattle.
This story of the Ward family starts before the potato famines and encompasses the vast political and social changes in which this group of farmers played a key role.
Strong Farmer sheds light on the cycle of work, trade and celebration that has always marked the farming year and brings to life the excitement of the cattle fair and the rituals of cattle dealing. The book is humorous and full of stories about markets, poor lodgings, roughnecks and clever bargaining. It also covers the cattle trade with the north of England.