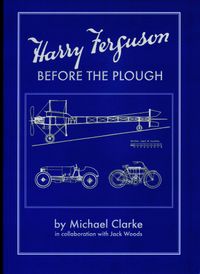 Harry Ferguson before the plough by Michael Clarke in collaboration with Jack Woods. Quality paperback with gatefold, 160 pages including 50 photographs and line drawings. Published by Ballyhay Books and distributed by Old Pond at £12.99. IN STOCK.
Colin Fraser's standard work, Harry Ferguson: inventor and pioneer, sketches in the great man's early adventures in less than twenty pages. This new book, dealing mostly with the period 1906-13, completes the story.
The young Ferguson, apprenticed at his brother's motor repair workshop, developed an over-riding interest in all things mechanical. He built and raced motorbikes and cars, then turned to aviation, designing, building and flying his own aeroplane. He was the first person to fly a plane in Ireland.
Ferguson's obsession with flight – the same single-minded determination he was later to devote to his tractors and farm machinery – makes for fascinating reading. He had to solve engineering problems and then take all the risks that early aviators faced. There were plenty of thrills and spills.
The authors are both aviation enthusiasts, Jack Woods having had several books about aviation in Northern Ireland published. They have researched the subject deeply, and among the many fine illustrations in the book are 27 from the Ferguson family museum.