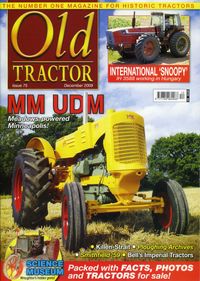 "I shall remain as editor of Old Tractor for the next three months but the March 2010 issue will be my last in that role."
The words are those of Stuart Gibbard in an email to contributors and friends, 9 November.
Working on a freelance basis, Stuart has edited and produced Old Tractor since its inception in 2003. The December issue is number 75. Readers know that they are guaranteed excellent photographs and in-depth features, edited to a high standard.
The new editor will be Scott Lambert, currently the designer of Tractor & Machinery magazine. The change reflects owner Kelsey Publishing's policy of taking all its titles in house in order to make optimal use of its employed staff.
Stuart continues: "My position is now fluid and I have been asked to move to the position of group editorial consultant with increased input over all the Kelsey tractor titles as well as contributing to Tractor & Machinery, Old Tractor and others in the group."
In response to his email Stuart has received many replies expressing astonished disappointment and support.