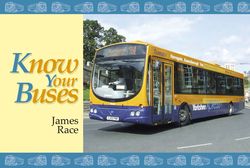 Know Your Buses by James Race. Pocket-sized (104 x 155 mm) paperback, 96 pages including 45 photographs. ISBN 978-1-906853-38-9. Now in stock at Old Pond at £4.99.
Every day in all corners of Great Britain, buses can be found transporting the public for local and long distance journeys as well as sightseeing and school transport.
In Know Your Buses James Race shows 44 models. He selects those which are the most popular among bus operators as well as a few of the models less commonly seen. They are all currently licensed for public use today.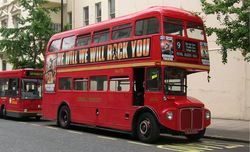 Interestingly, many of the bus chassis are built in different countries from the bodywork which accompanies them. This is shown with the description for each bus.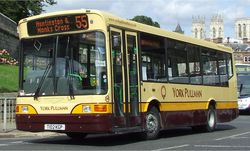 The buses featured are: AEC Routemaster,  Bluebird AARE,  BMC 1100FE,  Bristol VR, DAF DB250,  DAF SB220, Dennis Dart, Dennis Dart SLF,  Dennis Dominator,  Dennis Dragon,  Dennis Enviro200,  Dennis Enviro400,  Dennis Enviro500,  Dennis Lance,  Dennis Trident,  Irisbus Agora Line,  Leyland Lion,  Leyland Lynx,  Leyland National,  Leyland Olympian,  Leyland Titan,  MAN 14.220,  MCW Metrobus,  Mercedes O405,  Mercedes O814D,  Mercedes Citaro,  Optare Excel,  Optare Solo,  Optare Tempo,  Optare Versa,  Plaxton Primo, Scania N113CRB,  Scania N270UD,  Scania OmniCity,  Volvo Ailsa,   Volvo B6B,  Volvo B7RLE,  Volvo B9TL,  Volvo B10BLE,  Volvo Citybus,  Volvo Olympian,  VDL SB200,  Wright Gemini 2,  Wright Streetcar.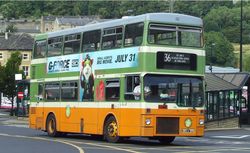 Know Your Buses follows the success of nine other books in the Know Your ... series.