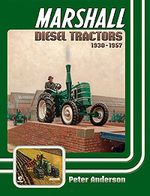 Peter Anderson, author of Old Pond's book Marshall Diesel Tractors 1930-1957, looks after the machinery at the Royal Horticultural Society's Wisley gardens.
He has recently been heavily involved in preparations for one of Wisley's new ventures - their 'Mad about Machines' event which takes place from Saturday 24 July until Friday 30th. For that week the added attraction for garden visitors will be a display of tractors and other machinery.
Peter has made his selection of 28 tractors as colourful as possible with bright examples of David Brown, Fordson, Allis, Massey-Harris and others. Those who know Peter will not be surprised to find single-cylinder models there, although they may be more surprised by the rarities alongside the several Field Marshalls and an early Lanz Bulldog. The very unusual machines are a French Messidor and a German Kramer.
Peter also promises examples from Dusty Miller's collection of lawnmowers, several of which date back to the 19th century. Surrey Rural Life Centre are also displaying agricultural tools through the centuries.
For more details visit the RHS website.