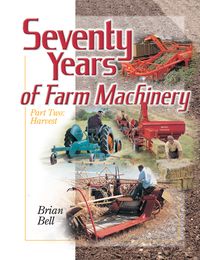 Seventy Years of Farm Machinery Part Two: Harvest, Brian Bell MBE. Hardback book, 246 x 189 mm, 224 pages inc 314 photographs. ISBN 978-1-906853-50-1. Now in stock at Old Pond Publishing at £24.95.
In the twentieth century the machinery for harvesting cereals, grass and root crops changed beyond recognition. Brian Bell's latest book charts this technical revolution from the 1930s to the 1990s.
He begins with the cereal crop, showing the progress from reapers, binders and threshers through the development of the combine to more recent models 'bristling with electronic gadgetry'. He also includes a section on pea and bean harvesters.
In his second chapter the author turns to balers: from stationary balers and trussers to pick-up balers, big balers and bale handling. Under the heading 'hay and silage machinery' Brian Bell deals with cutter-bar mowers, mounted, mid-mounted and rotary mowers, hay making and loaders, silage machinery, green-crop loaders, forage wagons and forage harvesters. Brian is no stranger to grass farming. In the photograph (left) he is the young man further from the camera at work in the early 1960s.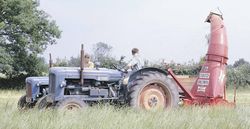 Chapter 4 is devoted to sugar beet machinery: down-the-row thinners, harvesters, self-propelled sugar beet harvesters and cleaner loaders. Potato harvesting machinery follows: spinners and elevator diggers, complete harvesters and haulm pulverisers.
The final chapter covers hedging and ditching, post-hole diggers, ditching machinery, saws, chainsaws, machinery to aid lifting and carrying and farm trailers – all part of estate management machinery.
Throughout the book the Brian Bell uses a large number of photographs and other illustrations to show examples of the equipment. This is Brian's 47th year as an author, with twenty-five books and DVDs in print. The current book is a sequel to his 2009 title Seventy Years of Farm machinery Pt 1: Seed time. Together these two books offer an absolutely unrivalled picture – with about 600 illustrations – of the transformation of farm technology in less than a human lifetime, a second agrarian revolution.