Old Pond Publishing is now able to offer the trucking DVDs distributed by Nynehead books, originated by Roundoak and CP Productions.
Since the early 1990s Pete Connock and Martin Phippard of CP Productions have taken annual trips to see and film examples of the most powerful, exciting and unusual examples of trucking around the Western world. Their visits to Australia, New Zealand, Canada, the United States, Sweden and elsewhere have all produced footage of configurations and large-scale work unlikely to be found in the UK.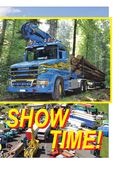 Pete Connock works as a full-time driver while Martin Phippard, semi-retired, is still in the transport industry. Both are privileged to join in with the activities they film, resulting in plenty of in-cab shots and drivers' action. Their latest programme, Show Time!, takes us to Switzerland to look at the particular features of the Swiss trucking industry. The DVD includes the Interlaken truckers' festival and a memorable session with a T-line Scania logger with independent trailer steering at work on steep hairpins in the Swiss mountains.
All CP Productions programmes are fully scripted with a clear narration.
These DVDs are available to order here. For further information please contact Heather Jarrold: heather@oldpond.com, phone 01473 238200. A checklist of titles follows; a short catalogue will be available from 7 October.
CP Productions DVDs
Australian Adventures Volume 1 (2001), 60 minutes, £16.95
Australian Adventures Volume 2 (2002), 57 minutes, £16.95
B-Train Bonanza 1 (2007), 75 minutes, £16.95
B-Train Bonanza 2 (2008), 90 minutes, £16.95
Bulkhaul (2006), 83 minutes, £16.95
Bulkhaul 2 (2009), 70 minutes, £16.95
Cross Canada Haul (1997), 60 minutes, £16.95
Great Lakes Specials (1993), 60 minutes, £12.99
International Heavy Haul (2001), 57 minutes, £16.95
Loaded & Rollin' (2005), 70 minutes, £16.95
Pilgrim's Progress (2003), 60 minutes, £16.95
Quarries and Lorries (2004), 60 minutes, £16.95
Seeing Double  (1996), 60 minutes, £16.95
Show Time! (2010), 57 minutes, £12.99
Top Tipper Trio (2007), 53 minutes, £16.95
West Coast – Revisited (1999), 58 minutes, £16.95
Archive footage is the speciality of Roundoak programmes made by Nynehead's Robin Pearson. Old Pond has been able to offer the popular Bedford DVD for a number of years. The other titles are new to Old Pond distribution.
Roundoak DVDs
Pickfords at Work (1997), 50 minutes, £16.95
Bedford: you saw them everywhere (2005), £16.95
Wynns 1 (1996), 28 minutes, £14.95
Wynns 2 (2002), 50 minutes, £16.95
Wynns 3 (2005), 45 minutes, £16.95