This autumn Old Pond has produced two catalogues.
The first is the usual annual catalogue, larger than ever and with news of even more books and DVDs for those interested in the land-based industries. You can see a copy online, download it or print pages on the Old Pond website here.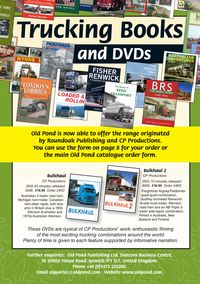 The second catalogue is a new one devoted to the books and DVDs produced by Roundoak and CP Productions. The majority are on lorries and trucking and they cover material as diverse as Australian road trains and UK Post Office service vehicles.
This catalogue is available here on the Old Pond website.
For trade enquiries or to have either catalogue sent by post, email heather@oldpond.com.