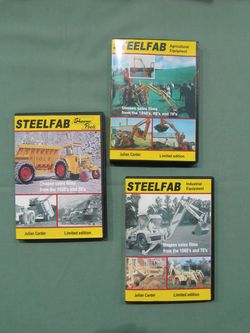 Next to our Old Pond stand at Spalding, Julian Carder was piloting three new DVDs, unseen sales films from the 1950s, '60s and '70s.
They show the products of Steelfab which originated in 1935 as Steel Fabrications of Birmingham and moved to Pengarn, Cardiff in 1946. They went into receivership in 1998. Among their products were the Shawnee Poole transporter and the Horndraulic.
The Shawnee Poole DVD includes 'Introducing the Shawnee Poole System', 'Shawnee Poole serviceability promotional film' and 'Shawnee Poole in earthmoving', plus extras. It runs for 81 minutes.
Agricultural Equipment includes 'Introducing the Superbale handling system', 'the Horndraulic loader', 'Steelfab 800 digger working on a farm' and 'the Steelfab 800 digger'. Approx 34 minutes.
Industrial Equipment: 'Introducing the Steelfab 160/180 backhoe loader', 'Power X materials handling sales video', Power X system launch at the factory'. Running time 72 minutes.
Prices are still being established. For more information contact Julian Carder: juliancarder25@hotmail.com