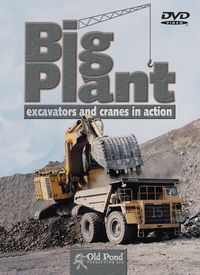 Big Plant: excavators and cranes in action. Five-DVD set, running time approx 9 hours.ISBN 978-1-906853-87-7 To be released in March by Old Pond at £24.95 (inc. VAT).
In 1998 Geoff Lewis began recording big plant at sites in Wales and elsewhere. He started with a look at Ruston-Bucyrus, the company in which he had served his apprenticeship.
He released eight more programmes over the years under the heading 'Cranes and Excavators'. This constitutes a unique view of draglines, grab cranes, dozers, excavators, scrapers, dump trucks, face shovels and graders at work during the past decade. Many of these machines are now out of commission.
This compilation on five disks offers more than nine hours' viewing. The set covers the following:
Disc 1: Ruston-Bucyrus
Disc 2: Caterpillar
Disc 3: Draglines, Diggers and Bulldozers
Disc 4: Black Harvest – Coal
Disc 5: Dockside Cranes.
Geoff Lewis has drawn on his extensive knowledge of mining and earthmoving engineering to provide a knowledgeable commentary. His programmes include footage from quarries, gravel pits, construction sites, surface coal mines and docks. The filming is relaxed, offering machinery enthusiasts the chance to see the machines at work over several cycles.
Disc 1 Ruston-Bucyrus
The first programme is a mixture of archive footage from the 1930s with machines from the 1950s and 60s still working in the 2000s. Includes Ruston No. 4 dragline and skimmer; draglines 10-RB, 19-RB, 30-RB, 33-RB, 54-RB and 110-RB; face shovels 22-RB, 32-RB, 61-RB, 100-RB and 195-RB.
The second programme is Geoff Lewis's own filming, some of the first he carried out: 22-RB face shovel, 38-RB and 71-RB grabs, 195-RB mining shovel.
Disc 2 Caterpillar
In the late 1990s Geoff Lewis filmed Caterpillar machines at work in south Wales. The first programme includes: bulldozers D8, D6H LGP, D11R; backhoes 235 and 375; loading shovels 5080 and 988/988F, scraper 637, ADT D400-E.
Programme 2 includes Cat machines as well as some from other manufacturers: Cat D9-H bulldozer, 631 and 637 scrapers; Komatsu PC450 backhoe, NH W270 front-loading shovel; O&K RH 120-E backhoe; NCK 605 rope shovel and 1495 grab crane.
Disc 3 Draglines, diggers and bulldozers
The 'Ace of Spades' is among the highlights of the draglines filmed in various UK sites. The draglines included are: Ruston-Bucyrus 71-RB, NCK 605 (two examples), Ransomes & Rapier W-150 and the P&H 757 'Ace of Spades' walking dragline.
The second programme features a wide range of earthmovers: Komatsu D53P & D65 PX dozers, PC1250 backhoe; Cat D9-R dozers, 777D dump truck, 631 grader; Liebherr R974 face shovel; Robex backhoe; Amec hydraulic lorry grab and a Demag backhoe.
Disc 4 Black harvest - coal
The disc starts with the machines Geoff Lewis found at the Selar surface  coal mine, Hirwaun, south Wales at the turn of the 21st century: Cat 375 backhoes, PC240 face shovel, D9-R dozer, 16H motor grader; Komatsu PC3000 face shovel and HD785 dump trucks and engine re-fit; Moxy MT 40B ADT; Demag H185S backhoe.
For Part Two Geoff Lewis moved to surface mines at Parkslip, Bridgend and Nant Helen, Neath-Port Talbot, both in south Wales. Machines here were: Komatsu PC3000 face shovels (two examples) and HD785 dump trucks; Cat 777B, C & D dump trucks, D9-R dozer; Demag H185-S backhoe; O&K 120-E face shovel and 120-C backhoe; Terex TR100 dump trucks.
Disc 5 Dockside cranes
Geoff Lewis's giants in the sky were all filmed in Newport Dock in 2000-2001. Loading sand, gravel and grain are several Stothert & Pitt grab cranes from the 1960s and a DD2 of 1950s vintage. A more modern Ainscough telescopic crane moves one of the grab cranes and a mobile Ruston-Bucyrus 61-RB discharges steel coils. The programme and DVD set ends with a close look at 'Mersey  Mammoth', the largest sea-going self-propelled crane on the UK's west coast, seen lifting and moving a quayside crane.