Old Pond author David Kindred is known in Ipswich and East Anglia to have one of the finest archives of local photographs. David's passion for photographs showed during his long stint as photographer, picture editor and manager of photographic operations in the East Anglian Times group.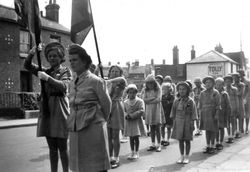 When David retired he began to publish weekly newspaper features, 'Kindred Spirits', based on local historical photographs, many of which were sent in by readers. This week reader Jenny Laughlin has responded to a feature on Bramford Road, Ipswich with a photograph of the Salvation Army guides and sunbeams on parade there in the 1950s (left) and memories of her own. She recalls her childhood when the area was full of shops, pubs and a community spirit: 'Those of us who grew up in that area have fond memories of living around there. All those homes and shops went when they built flats, so people moved all over Ipswich.'
The sad thing for those of us who have enjoyed David's features is that this week's was the last.
However, this has given David and his son James the opportunity to set up a new website www.kindred-spirit.co.uk on which they download articles which draw on David's ten years' writing and invite readers' responses. We can expect completely new features too. Besides his detailed knowledge of the town of Ipswich, David's specialist subjects are pirate radio, 1960s bands and Ipswich Town football teams in their glory days.
David is currently preparing an autumn 2011 book for Old Pond on the changing face of Ipswich. Yes, the town really has been transformed in the past hundred years - but has it kept its community spirit?