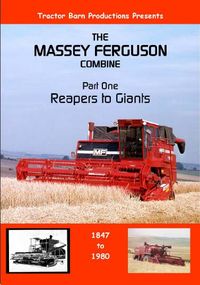 The Massey Ferguson Combine Part One: 1847-1980 Reapers to Giants, Steven Richmond and Jonathan Whitlam (Tractor Barn Productions). DVD approx 70 minutes. ISBN 978-1-906853-92-1. Available now from Old Pond at £16.95 inc VAT.
The first part of two programmes which - using archive footage from AGCO - Tractor Barn tells the story of the Massey Ferguson combine from reaper to the latest high-tech machines.
Part One starts in 1847 with reapers and moves through binders, the Massey-Harris merger and then the successful reaper-threshers built by this company that introduced the rasp-bar cylinder method of threshing. Then Massey-Harris set a worldwide trend when they produced the first self-propelled combine, the 20SP, followed by the hugely successful 21SP that became famous as the instrument of the Harvest Brigade in North America in 1944. The combine range gradually evolved and soon combines where being made in Europe as well as Canada and the Massey Ferguson 400 and 500 Series and their derivatives were among the best selling combine of the 1960s. Then in the mid 1970s Massey Ferguson produced the world's first 'super' combine - the giant 760 - and we pay tribute to this simply massive machine and the way it ruled the American prairies as well as the smaller fields of Europe.
Both Parts One and Two use original Massey Ferguson archive film taken when the featured machines were new and at work in the fields of the world. Taken together, these two programmes tell the fascinating story of the development of the red combine harvester line from its origins right up to the present day and also include glimpses of how these machines were built in factories in Canada, Scotland and Denmark. Buy the two programmes together for only £32 inc VAT from the Old Pond Offers website page.