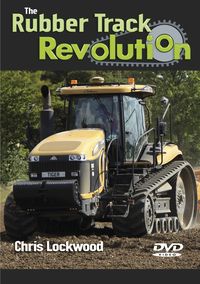 The Rubber Track Revolution, Chris Lockwood. DVD approx 100 minutes. ISBN 978-1-906853-85-3. In stock at Old Pond at £16.95 inc VAT.
In 1987 Challenger introduced the Challenger 65 model with a startling innovation: rubber-belt drive to replace rubber tyres. This combined the traction advantages of traditional crawlers with the mobility of four-wheel drive machines.
In 1990 Track Marshall followed with its 210 horsepower TM200. From that time rubber tracks have been a steadily increasing sight on Britain's farms, with a claim to offer less soil compaction than their wheeled counterparts.
In 2010 Chris Lockwood filmed 25 examples of those to be seen today, from the Cat Challenger 65 to the latest John Deere 8345RT. Where possible each tractor is shown working with a different implement, and the programme includes subsoiling, cultivating with one-pass disc/tine cultivators, discing, ploughing, pressing, power-harrowing and drilling. As the filming was over a relatively long period it also includes different conditions, ranging from early cultivations in fresh stubble in July to winter ploughing in November.
The story that Chris tells is one of a dramatic increase in horsepower from the 200 mark up to nearly 600. This is coupled to an increasing technical sophistication, with GPS technology and automatic steering becoming routine.
Tractors included inthe DVD:
Cat Challenger 65 - Track Marshall TM200 - Cat Challenger 75D - Cat Challenger 85D - Case IH Quadtrac 9380 - Cat Challenger 55 - Claas Challenger 55 - John Deere 8410T - Claas Challenger 85E - Claas Challenger 95E - Morooka MK-160 - Morooka MK-220S - John Deere 8420T - John Deere 9320T - Case IH Quadtrac STX450 - Challenger MT765 - Cat Challenger MT865 - Case IH Quadtrac 430 - Case IH Quadtrac 530 - Challenger MT765B - Challenger MT865B - John Deere 9630T - Challenger MT765C - Challenger MT865C - John Deere 8345RT.
Some stills taken by Chris while filming can be seen in the blogs of 31 October and 2 November 2010. Chris has previously had two books, Know Your Tractors and Know Your Combines, published and two DVDs, Combine Harvesters parts 1 and 2, released. Chris runs the website Mid Suffolk Agri Photos.