High, Wide and Handsome: four exciting abnormal loads, Pete Connock and Martin Phippard (CP Productions). DVD approx 75 minutes. ISBN 978-1-906853-94-5. Now in stock at Old Pond at £16.95 inc VAT.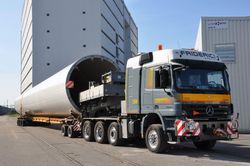 In Switzerland Friderici was transporting massive wind turbine sections from the port of Basle to the highest point on the Jura Mountains. Mercedes, MAN and Iveco units hauling Nicolas, Broshuis and Faymonville trailers undertook this challenging journey.
In America, Ohio-based Diamond Heavy Haul was moving one of its more spectacular loads. The huge casting was hauled out of the port of Indiana, offering the sights and sounds of Peterbilts, loud Jake brakes and a DHH powered trailer.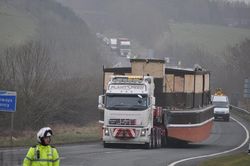 The British haulier Plant Speed operates sophisticated Volvo FH 16 8x4 tractor units to move the heaviest loads. CPP was fortunate to catch one of these moving a twin-hull ferry from Keswick to the port of Workington.
French transport specialist Brame P regularly moves heavy loads from Belfort to the port of Strasbourg. CPP captured the unusual sight of two massive loads each with a tractor unit at the front and a 'pusher' at the rear!
For more DVDs by specialist big-trucking film-makers CP Productions, see their section in the Old Pond online catalogue.