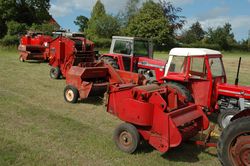 In the latest weekend of filming we were lucky enough to film five MF balers in action on land near Taunton belonging to Adrian Troutt. In the photograph (click for an enlargement) are from rear to front: MF 185 70/80 cut chamber; MF No. 4; MF 1450; MF 20; MF 802 (low density). They were owned or operated by Headley Martin, Adrian, David and Michael Troutt.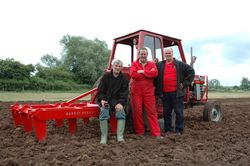 This is an ambitious project. Altogether we expect to record some 79 machines and 12 combines, and we are about two-thirds the way through. The programmes will also include 32 variations of MF tractors, hard at work. The men behind the project, right to left by the 185 and No. 24 chisels, are Dennis Burston and George French, with Dennis's brother Maurice. We hope to release three DVDs at some stage in 2012.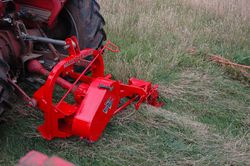 Mowers are not easy to show on film because most of the action is hidden by the crop. This one was an MF 32 5ft version belonging to Maurice Burston.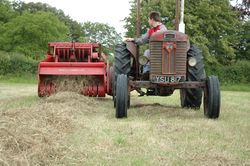 On the right, the MF 802 baler is coupled to David Troutt's MF 65 Mark 1. David  is the driver; he and his brother Michael share the baler.
 Finally, here is George French driving his 185 drawing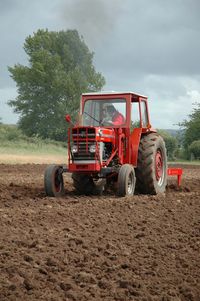 Dennis Burston's MF 24 chisels - on a beautiful and moody summer's day in Somerset.