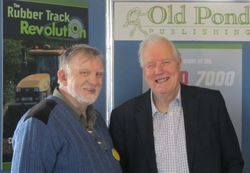 We had a very good weekend at the Newark Tractor Show where we were joined on our stand by David Walker, author of Inside Massey Ferguson: a story of service published by Farm Power.
Having signed and sold a good few books, and having had some lengthy meetings of mind with Massey enthusiasts, David (left in the picture) enjoyed a surprise visit from another MF partner in crime John Kirkham (right).
David's 21 years of service with the company was bested by John at 45. Apparently they first met in 1952 when David would have been seven. They met again at Coventry in 1966 but hadn't seen each other since 1987. John was Tractor Service Manager with MF; David a regional service manager. They had a lot of memories to swap.