Massey Ferguson's Thinking Tractors, Stephen Richmond and Jonathan Whitlam (Tractor Barn). Part One - Dawn of the Electronic Revolution, approx 100 minutes, ISBN 978-1-908397-35-5. Part Two - A New Power, approx 90 minutes, ISBN 978-1-908397-36-2. Each programme £16.95. Available now from Old Pond.
Tractor Barn has announced the imminent delivery of the first two DVDs in a 4-part series covering the Massey Ferguson 3000 series from its birth in 1986 to the range's replacement in 1994. Stephen and Jonathan claim that 1986 'is when the modern tractor as we know it today was born … Massey Ferguson became the first tractor manufacturer to truly embrace electronics in agriculture.' The programmes feature extensive archive footage as well as filming by Tractor Barn themselves.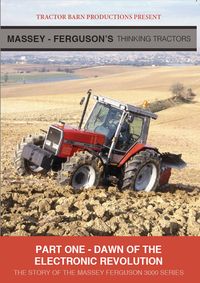 In Part One - Dawn of the Electronic Revolution they deal with MF's early electronic controls on the 4000 series of 1979, improved in the early 1980s with the 3500 series. But this was only the beginning as the company was about to take a giant leap forwards with the introduction of the new 3000 series in 1986 which bristled with electronic monitoring and control systems. Using previously unseen archive footage they show how the very first prototypes were tested and developed to produce the world's first 'thinking tractors' and how these were then launched to the farming public alongside the smaller 300 series machines.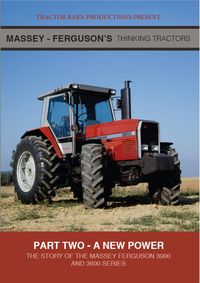 In Part Two - A New Power Stephen and Jonathan take the story forward with modifications to the 3000 series followed by the bigger 3600 series. 'It soon became plain,' they say, 'that the new MF 3000 and 3600 series set the benchmark by which all other tractors would be measured.' In this DVD the Tractor Barn duo include a wealth of  original Massey Ferguson films and also  provide 'a unique look at one particular 3070 tractor at work on a Suffolk farm during the 1990s taken from our own archives, giving a fascinating case study of the 3070 model itself.'
To follow later this spring are Parts Three and Four. Part Three - Extended Family will cover the introduction of new models including the 3100 series. Part Four - End of an Era will cover the final new models in the 3000 series plus the Dynashift transmission and the replacement of the whole range in 1994.
More programmes by Tractor Barn can be found here.