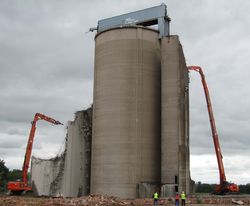 Steven Vale has now started preparing a second Demolition Giants DVD. In early July we were filming at the site of the Kidderminster sugar beet factory. DSM Demolition had two Hitachis in action, an EX1200 with a 60-foot Kocurek conversion and a 670LCH reaching to 23 feet.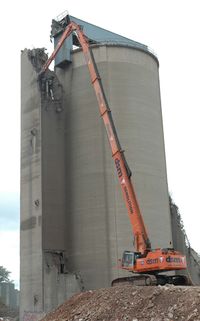 Extended to about 55 feet and mounted on a ramp for extra height, the 1200 was reducing the tower beside one of the two silos.
The cab of the 1200 tilted to give the operator a clear view.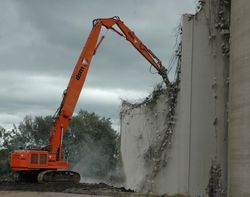 One of the silos was partially demolished, leaving the 670 to finish the job.
The plant, which opened in 1925, was closed in 2002, a victim of the restructuring and reduction of the UK's beet output as part of the EU sugar regime. The buildings stand quite near a car showroom and light industrial businesses, so DSM has had dust control as a priority.
The rest of the 74-acre site has been cleared, with only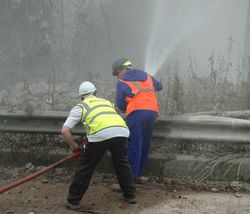 the silos to go – a three-week job for DSM. After clearance the St Francis Group will begin the first phase of redevelopment including 200 houses, a medical centre, shops and a major link road.
Programme-maker Jonathan Theobald (left in the photograph below) was kindly chaperoned by DSM staff Declan Boland (centre) and Christopher Bibb.
For photographs of the Kidderminster plant taken in 2001/2 see here. For details of Steven Vale's first demolition DVD see here. Information on Chris Lockwood's recent Beet Harvesters DVD is here.