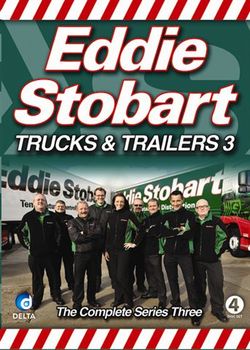 Eddie Stobart: Trucks and Trailers Series 3. 4-DVD set, approx 405 minutes. Available now from Old Pond at £19.95.
The popular observational documentary series featuring iconic haulage firm Eddie Stobart returns with more action packed adventures featuring their fans' favourite truckers.
EPISODE 1
Hazards are never far away as driver Lee finds out to his cost when he tries to move a London landmark, the famous Piccadilly lights, and it's red alert for Tim Fox when his brand-new biomass trailer goes missing.
EPISODE 2
In this episode, 20 young lads compete to win 10 places on the firm's coveted apprenticeship scheme. Seasoned pro Tim Fox battles his biomass juggernaut on the motorway, delivering recyclable garden waste in dangerously high winds, while two unlucky passengers come unstuck at London Southend Airport as Stobart attempt to conquer the airways in their latest £100 million venture.
EPISODE 3
One of Stobart s most unusual trucks, the 25 ton Tellytubby , with its 27 metre built-in-screen, is booked for a three-day charity supercar event in Ireland. Tellytubby is tasked with replaying the day's racing highlights, but first it must make it to the finishing line before any one else.
EPISODE 4
The iconic green and red wagons are back on the road and getting even greener as biomass driver Tim Fox heads to a recycling plant to collect a load of recycled sawdust destined for a cattle farm, but bad drivers, traffic jams, vague directions and tight squeezes soon tax his temper.
EPISODE 5
The rail freight division steams into action helping deliver fifty thousand bottles of Scotland's most popular soft drink south of the border, and it's a race against time unloading them at the rail terminal in Daventry as a breakdown in communications threatens to bring operations to a halt.
EPISODE 6
Driver Fiona has a trucking nightmare as she struggles to gets to grips with making deliveries to Bolton supermarkets in a new urban trailer she's never used before, and it's no laughing matter for trucker Eddie Murphy who's all at sea picking up containers from Felixstowe docks.
EPISODE 7
The wheels keep turning for Britain's iconic haulage firm Eddie Stobart, and in this episode Harry Hill lookalike trucker Kevin Durcan gets an eyeful on the graveyard shift in Liverpool city centre and makes a mercy dash to aid a member of the public.
EPISODE 8
In the last episode of the third series, it's Wales v England in a truck off as drivers Ashley Maddox and Mark Dixon race to deliver new turf for the pitch at Cardiff's Millennium stadium, but Mark proves an early casualty when he gets stuck in the mud.
EDDIE STOBART'S CHRISTMAS DELIVERY
A one-off special from Eddie Stobart, delivering Christmas to the nation in the biggest event of the trucking year. The guys and girls in the famous green and red wagons are relentlessly working round the clock 24-7, making 9,000 deliveries daily to bring home our festive cheer. Long-haul driver Ashley is embarking on a 500 mile journey from Yorkshire to a remote whiskey distillery on Islay, an island off the west coast of Scotland, to collect 700 bottles of whiskey destined for the mainland.