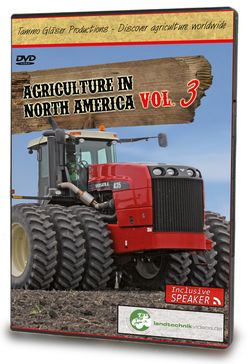 Agriculture in North America Vol. 3, Jörn & Tammo Gläser. DVD, approx 90 minutes (plus 15 minutes of Extras). ISBN 978-1-908397-51-5. Now available from Old Pond at £19.95 (inc VAT).
In the third part of their American travels Jörn and Tammo have visited the Midwest states of Iowa and the Dakotas in spring when enormous machinery prepares the ground for corn and soybean planting. In this 90-minute film they show us more than 25 different modern and sometimes very unusual agricultural machines associated with seedbed cultivation, drilling and slurry technology.
The scenery and weather phenomena are also stunning.
The motive power is provided by 4-wheel drive and tracked tractors from John Deere, Case IH, New Holland and Versatile among others. Interviews and narration provide insights into the farm equipment, crop farming and the stories behind the machines. There is an English-language voice-over.
This programme will also be available in Blu-ray at a price still to be determined.