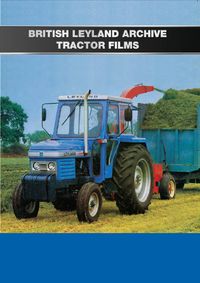 British Leyland Archive Tractor Films, Stephen Richmond and Jonathan Whitlam (Tractor Barn). DVD, approx 110 minutes. ISBN 978-1-908397-50-8. Now available from Old Pond at £16.95 inc VAT.
In this programme Stephen and Jonathan delve into the archives to present six complete films made by the British Leyland Motor Company between 1969 and 1980.
These films show the development of the Leyland tractor range from the 154, 344 and 384 launched in 1969. They cover the many new models introduced in 1972 as well as the Synchro range of 1978 and the last Golden Harvest machines.
Development machines are recorded under test; there are scenes at the Bathgate factory in Scotland and many working examples throughout the world. Films also look at the huge Leyland organisation as a whole, with footage of trucks and buses.
Stephen and Jonathan link the films together using original Leyland advertising. The compilation is a testament to the skills of British engineering.
The archive films in this programme are:
Tractors for the '70s - Crossing Frontiers - Synchro - 472 Synchro - Leyland Vehicles - Golden Harvest Range.