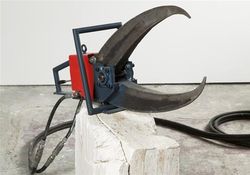 If you are in the north of England between 5 January and 14 April, you could think of visiting the Yorkshire Sculture Park, near Wakefield. You will be able to see an exhibition of the sculptures of James Capper.
According to the museum's website: "James Capper's extraordinary sculptures can walk, swim and climb mountains. This exhibition, which showcases Capper's on-going interest in industrial machines and the aesthetics of mechanical power, includes his Earth Marking, Offshore and Material Handling series."
There is more about the exhibition here. We are pleased that during the period of the exhibition the museum shop will be stocking two of our earthmoving books: Walking with Giants and Know Your Diggers.