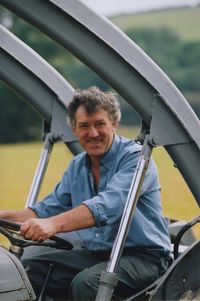 Harold Beer died peacefully at home on 26 January after a brave battle against cancer. His wife Eileen and daughters Jean and Gemma were with him.
He was of course the inspiration and organiser of the much-loved Ferguson on the Farm series of programmes. He was 66.
Harold's coffin was borne from the family farm at Warkleigh, north Devon by Ferguson TE-20 tractor and 30 cwt trailer down the lanes to the Christian Fellowship chapel at Umberleigh.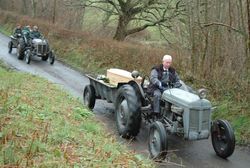 The leading tractor was driven by Harold's cousin, Ernie Luxton.  The pall-bearers, in Massey Ferguson boilersuits, followed. The two Fergusons were bought new as a pair and have been in the family ever since.
Some 300 people, including friends from Ireland, attended the funeral. Harold, as Mike Thorne has written for the Ferguson Club obituary, 'was a true gentleman in every sense of the term.'