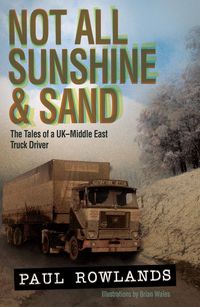 Not All Sunshine & Sand: the tales of a UK–Middle East truck driver, Paul Rowlands. Paperback book, 304 pages inc. 44 illustrations by Brian Wales. ISBN 978-1-908397-69-0. Now available from Old Pond at £7.95.
Paul Rowlands takes us into his world as a truck driver, initially around rural Suffolk and the rest of the UK, before embarking on the infamous Middle East run. Here he recalls his hair-raising experiences – some of them humorous, some alarming – and the many friends he made.
The long-distance lorry driver deals with life in the raw, with many hardships and occasional comforts. Run-ins with the locals, dramatic encounters with foreign drivers and mechanical problems may be the norm, but they are tempered by the sheer beauty of mountain passes, lakeside stops and the generous hospitality of the people he meets.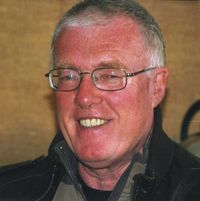 The camaraderie in the trucking fraternity has seen Paul through many a crisis, and he shares the belief that help is always at hand when a fellow driver is facing a problem. Take a ride through foreign lands in the cab of a long-haul lorry for an insider's perspective on overland travel.
Paul Rowlands was born in The Rhondda, South Wales. His first job was with the Civil Service, but his love for travel led to his becoming a long-distance truck driver. He lives in Ipswich, Suffolk and continues to work as a truck driver/roadie.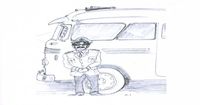 Pauls's book was first published in hardback in 2010. This is the first paperback edition.