Farming in Miniature: a review of British-made toy farm vehicles up to 1980.Volume 1 Airfix to Denzil Skinner. Robert Newson, Peter Wade-Martins and Adrian Little. Hardback book 285 x 305 mm (landscape) including 970 photographs. ISBN 978-1-908397-55-3. Now available from Old Pond at £49.95.
Farming in Miniature will prove essential for collectors of British toy models interested in farm tractors, farm horses and associated agricultural equipment. Many of the toys identified and described have never previously been mentioned in collectors' literature. The three authors, all leading authorities, have drawn on their extensive past experience coupled with another five years to research, write and prepare photographs.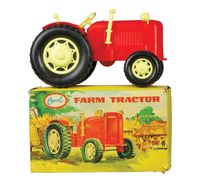 There are to be two volumes, each arranged alphabetically by manufacturer or brand. Each manufacturer has its own chapter introduced by an account of its history that inevitably ranges more widely than farm models but sets them into context. These introductions cross-refer to the captioned photographs that follow and which make up the bulk of the chapters.
In their general introduction the authors say that they have 'attempted to illustrate all significant variations of colour and packaging, particularly of rare or unusual models, so as to make the book as comprehensive as possible.'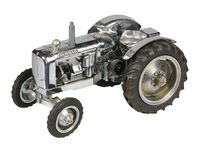 The volumes are being published separately, starting in autumn 2013 with Volume 1 which covers the following: Airfix – Authentic Model Books – Benbros – Britains – Budgie – Bullock – Chad Valley – Charbens – Cheerio – Cherilea – Childs and Smith – Coral – Corgi – Crescent – D.C.M.T. and Lone Star – Deltoys – Denzil Skinner.
Volume 2, to follow in 2014, will deal in another 900 photographs with manufacturers from Dinky to Wend-al, including a chapter on unidentified models. It will also include model and general indexes covering both volumes as well as a guide to the easy recognition of farm horses separated from their carts or wagons.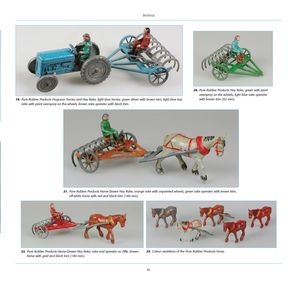 The authors
Chartered accountant Robert Newson started collecting Matchbox toys as a teenager. His interest developed into research and writing about the less well-known British manufacturers of diecast and lead vehicles. He has written extensively for toy collectors' magazines.
Dr Peter Wade-Martins has spent his working life as an archaeologist in Norfolk, with a special interest in countryside conservation. His other interests include rare sheep breeds. He has made a 20-year study of farm models.
In 2003, having dabbled in antiques and toys as an amateur for twenty years, Adrian Little founded Mercator Trading Ltd – dealers in interesting toys. The company specialises in the minor makers, vintage figures and pre-Second World War items.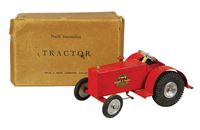 The three authors' work has been collated by Brian Bastiman who, with his son David, is a collector of model tractors and other Britains farm toys. Brian is retired from the national agricultural advisory service ADAS where he spent much of his time writing and editing scientific reports and papers.