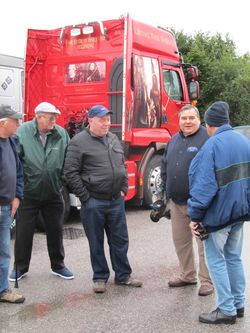 There was a very special occasion on Saturday to mark the 70th birthday of Martin Phippard.
Some 88 trucks gathered at the BP Services on the Warminster by-pass, Somerset.
Many of the trucks and drivers represented Martin's customers. Others came to show their respect for a great trucking enthusiast and journalist, the co-producer of the CP Productions series of trucking DVDs filmed all over the world.
The police closed the by-pass for a few minutes so that the trucks could parade in the Salisbury direction past Martin who observed the procession and the air-blasted greetings from a strategic layby.

Heavily involved in the organisation was Martin's co-producer, Pete Connock (second from the right in the first photograph). All Martin's family were there too.

It was a wonderful occasion, fit for a king of trucking, to which the following photographs are unable to do more than scant justice.