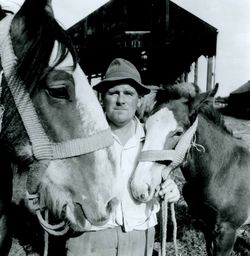 One of the nicest and most inspiring men I have had the pleasure of meeting during my time at Farming Press and Old Pond was Geoffrey Morton who died on 13 December at the age of 87.
Geoff was single-minded in keeping alive the tradition of working farms with horses. His own farm at Hasholme Carr, Holme upon Spalding Moor was a Mecca for people interested in draught horses. He was a generous man. In 1977 when we needed farm carts in Wakefield so that the Mystery plays could be processed around the town, Geoff lent one of his and saw it transported a good distance from his farm and back again.
However, his life might have taken a different direction; indeed he was fortunate that it did not end prematurely. Born in Whitby in 1926, Geoff became a merchant seaman, serving for 9-10 years. In 1943, a week before his 17th birthday, his cargo ship Fort Pelly was bombed during the invasion of Sicily. The ammunition store exploded, forty seamen lost their lives, but Geoff swam to safety.
Geoff was formerly President of the Percheron Society and a long-time member of the Draught Horse Training Committee. In 1990 he was awarded the MBE for his services to agriculture.
There have been quite a few films made about working horses but Geoff was the subject of one of the earliest and best: Beauty, Bonny, Daisy, Violet, Grace and Geoffrey Morton made in 1974 for Thames Television. It went on to win national and international recognition with a Bafta and the Prix Italia for documentaries. I asked Geoff how he got on with the film-maker, Frank Cvitanovich, and his reply was down to earth: 'An easy man to work with. You'd do all right with him.' The programme is available as a DVD from Old Pond.
Geoffrey Morton is survived by Lucy, his wife of 64 years, his children Mark (who continues to work the farm), Andrew and Janet, and seven grandchildren.