In International Heavy Haul Two we travel to four different parts of the world to bring you features showing heavy haulage at its most impressive.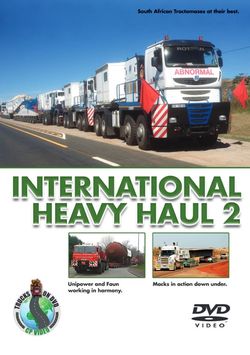 This Trucking DVD is filmed in four different parts of the world.
The first film looks at the transport of two 130-tonne bridge beams in Australia. We see the crews starting their day's work in a remote layby on the Great Northern Highway between Perth and Port Hedland, and accompany them for some distance - excellent in- cab footage is included. Traction is provided by Mack-ballasted tractors with the beams supported front and rear on 7&8 row bogies.
In the second feature we move to South Africa. Here we were privileged to witness the movement of a 356-tonne transformer, which was being carried on a girder frame supported by 24 rows of axles. Motive power is provided by three 8x8 Tractomas ballasted tractors and a rebuilt 6x4 Pacific. The sight and sound of this awesome combination is definitely not to be missed. We also film various other heavy loads with a variety of bal - lasted and 5th wheel tractors.
For the third part of our quartet, we have to thank Warwick Bell, general manager of Tranzcarr in New Zealand, who very kindly allowed us to use a film made for Tranzcarr showing the haulage of two transformers to a wind-farm project. The loads, weighing nearly 100 tons each, were carried on ten rows of axles, pulled and pushed by two Mack tractors. Other trucks were brought in to assist on gradients of up to 20% (1 in 5). The film follows the whole job, from unloading the transformers from a ship in the Port of Wellington through to final installation at the job site.
Our final feature brings us back to England to witness ALE moving two redundant giant boilers from the decommissioned Berkeley power station to the docks at Sharpnees. Motive power is provide by ALE's unique Unipower 8x8 tractor and a 6x6 Faun tractor. Filming starts at the power station and follows the loads through to the docks. There we see them being loaded onto a barge belonging to Robert Wynn and Sons for onward shipment to Avonmouth Docks, where they were due to be loaded onto a freighter for delivery to Sweden for processing.
Please click to view International Heavy Haul 2