In September we were in Wyoming and Maryland filming excavation machinery in open-cast coalmines. Our first base was Gillette, Wyoming. 'Great Mistakes Airlines' was the epithet that our cameraman bestowed on Great Lakes Airlines, the company that transported us from Denver to Gillette on Labor Day.
We loaded our luggage at Denver, eight bags for the three of us flying. At Gillette the tripod case was missing. This was a big item, maybe four feet long, and quite heavy.
What soon became apparent was that Great Lakes had no tracking system for luggage. They simply had no idea where it was. The staff were friendly, they worked hard (I wouldn't want my daughter hefting baggage the way these young women have to), and they earnestly wanted to help. But with no system they were lost - as were we.
It cost us a day without a tripod to film on; a day for me personally while I was sorting out a hired tripod; and excess on insurance. The tripod has never turned up and we've never received an apology, apart from those given by the harassed counter staff.
I understand that Gt Lakes has a code-sharing agreement with United Airlines. Well, my personal bag went missing on the UA flight we took later in the week from Denver to Pittsburgh. The treatment we received was totally different. The bag was immediately traced as delayed; we were offered compensatory flight vouchers and apologies; the bag was sent by courier to my hotel a couple of hours' drive away. Spot on.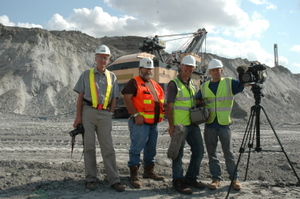 The hired tripod at Belle Ayr mine, Wyoming. From the left, Keith Haddock (scriptwriter), Ken Kelly (Belle Ayr mines), Jonathan Theobald (director), Roger Wiltshire (cameraman and coiner of the epithet 'Great Mistakes Airlines').
One of the stars of the programme is in the background: P & H 4100 XPB shovel.