This is a very partial standholder's opinion of the show. Marks are strictly unscientific and subjective.
Arrival and setting up. We were in the brand-new exhibition hall, and once we got past the builders' vehicles and reconciled ourselves to having less space than we booked, setting up was straightforward with good access: 7 out of 10
Catering and toilets. Catering ranged from the good to the abysmal: 6 out of 10
Did plenty of people visit the stand? Yes, though they looked thinly spread: 20 out of 25
Were they spending? Yes: 20 out of 25
Geographical spread of visitors. Not many from Ireland, Scotland or Wales: 5 out of 10
Friendliness of organisers and Saturday evening entertainment. Good: 8 out of 10
Breakdown and getting away. Excellent: 9 out of 10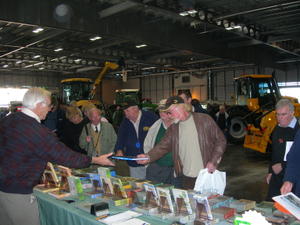 The standholder's view in the new exhibition hall, East of England Showground, Peterborough. Brian Bell is behind the counter.
My mark for the show ( which ignores the tractors, auction and other attractions) is 75 per cent.
One other plus point: they used the loudspeakers sparingly.