This is a very partial standholder's opinion of the show. Marks are strictly unscientific and subjective.
Arrival and setting up. We were in the Newark pavilion. This is not the smartest of locations, but it is certainly an easy place to set up. 8 out of 10
Catering and toilets. The usual - long queues if you want to eat good food at a peak time: 6 out of 10
Did plenty of people visit the stand? Yes, visitors were funnelled through the building from and to the red gate when they arrived and left: 22 out of 25
Were they spending? Yes: 20 out of 25
Geographical spread of visitors. Slightly wider than at Peterborough: 6 out of 10
Friendliness of organisers and Saturday evening entertainment. OK: 7 out of 10
Breakdown and getting away. Good: 8 out of 10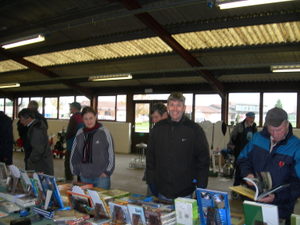 For us a very satisfactory show: 77 out of a hundred.
The customer with a big smile in the shaky photograph is 'Howard'.