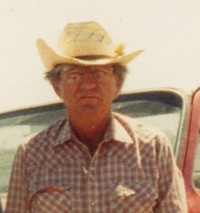 Anyone who remembers the 1976 BBC 'World About Us' documentary about custom harvesting in the United States and Canada will recall the contractor at the centre of it all: Dale Starks. We have been told that Dale passed peacefully away in Wichita hospital last Friday. He was in his 80s but almost to the end he was still harvesting corn.
The photograph (courtesy Robert White) shows Dale in Montana, 1983.

Old Pond has now released Yellow Trail from Texas as a DVD. See blog 25 June.
On the blog entry for 8 February 2009 there is a neat account by Tom Kirk of his time with Dale on the Yellow Trail.