From 1833 to 1850 William Brewis, who farmed at Throphill Hall, near Mitford, Northumberland, kept a journal in an account book. His entries cover the progress of his farming against the background of the repeal of the corn laws. Fairs and markets, the weather, crops and livestock are all included. Wider political events such as battles in India compete for space with outspoken comments about local people, the prowess of the Morpeth hangman and Queen Victoria's child-bearing.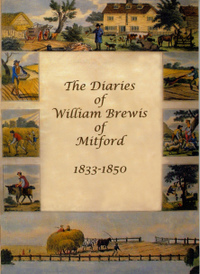 The Diaries of William Brewis of Mitford 1833-1850, transcribed by Joan Foster & Dr Michael Smith, edited by Hilary Kristensen, paperback, 116 pages, approx 30 illustrations, ISBN 978-0-9538443-8-8 (published in 2007 by Wagtail Press), available from Old Pond Publishing at £9.95. more ...
The diaries have been preserved in the Robinson special collection at the University of Newcastle upon Tyne. One of William's descendants was arguably the 20th century's greatest writer of farming humour: Henry Brewis. more ...
Some sample entries
Morpeth Fair for servants. I hired 2 men 14 & 17 £ and one girl £8 per year.
Died at Windsor, the King of Great Britain ... I had the pleasure of seeing him on my road from Windsor to London about 5 years ago. He appeared to be a round faced good looking man and very plain. He has been a good king for this country.
I was out on the moor on Friday afternoon and the fire and thunder fell both together fell just where I was and I was stupified and turned quite round. When I looked round I saw my bloodhound dog standing upon his hindlegs looking with astonishment to know what was to become of me.