We now have copies for sale of this new book designed and published for Perkins Engines by Landmark Publishing.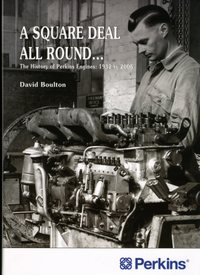 A Square Deal All Round ... the history of Perkins Engines: 1932 to 2006 is a large-format hardback, 253 pages with 136 generously sized black-and-white photographs. The price is £25.00. Buy now
Author David Boulton joined Perkins as a student apprentice in 1957. He enjoyed a wide range of experience with the company at home and overseas as a development engineer and in quality control. He was one of the founders of Perkins's heritage club and retired from the company in 2002.
In the book he deals thoroughly with the company's engineering, finance and structure. Because the engines have had a wide range of applications, his story includes agricultural, trucking, marine and military applications, among others. In a useful appendix he gives engine specifications. David Boulton's account runs from the visionary founding in 1932, through the M-F years to the early period with Caterpillar. In separate chapters he covers the Brazilian, American and licensee operations.