In 1970 Philip Wood was appointed as the first Books Manager at Farming Press, becoming sales director of the books division before he retired in 1980. He collaborated particularly successfully with Eddie Straiton, author of the 'TV Vet' series of books.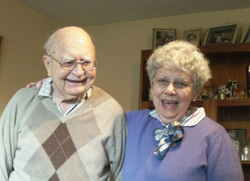 Philip's career started in 1932 when went to work with Dairy Farmer magazine in Hanover Square, London, as office boy / typist / teamaker / assistant to the ad manager. In 1935 he transferred to the editorial department, based at Ipswich.
Philip was called up for military service in 1940, served in the Middle East, was commissioned and finished the war as a lieutenant. After the war Philip worked again for Dairy Farmer, then went out to South Africa where he joined the South African Farmers Weekly editorial staff. Back in the UK after a couple of years he became, in 1953, the founder editor of Pig Farming magazine.
Philip and his wife, Phyllis, enjoying his 94th birthday in their Ipswich flat.
From 1958 to 1962 Philip was editor-in-chief of the Farming Press group. In 1963 he left to found his own PR business in Ipwich. In 1970 he returned as books manager.
He has always been just as busy outside work as in: former chairman of the East Anglian publicity club and the Ipswich operatic and dramatic society; chairman of Ipswich rotary club; warden of St Matthew's church and former editor of their parish magazine. He sang in a number of choirs, including the police choir and has written booklets of hymns.
(Although Pig Farming magazine is now closed, cmpi still publishes the Dairy Farmer. There is further more information about the history of Farming Press group, the current status of its books and videos and its relationship with Old Pond at Farming Press.)