H W Freeman (see post 16 April) and his wife Betty were the centre of a group of friends/helpers attracted by their personalities and lifestyles. Betty's closest friend was probably Astrid Massey who, like Betty, was a German expatriate. Astrid, a generation younger than Betty, took over from the older woman when she retired from teaching German classes at Suffolk College, Ipswich.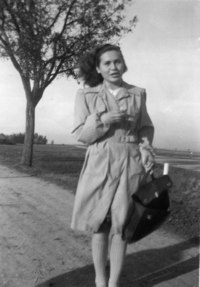 Astrid in about 1944
When Astrid died in 2005 she left pencil jottings in which she had sketched for her four adult children an account of growing up in Germany. Her widower, Harry, has collated the notes and published them under the title 'Astrid's Book'.
Few of us who knew the precise, hard-working and very helpful person when we attended her evening classes could have guessed at the backgound revealed by the book. Astrid Ziolkowski, born in 1928 near Bremerhaven in north Germany, grew up in a poor but close family against the backgound of the immense changes in Germany. Astrid describes some of the impact of these changes and the differing attitudes of members of her family to the Nazi regime. Astrid herself 'danced for Hitler'.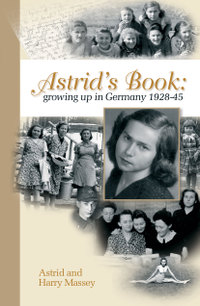 When she was quite young Astrid moved with her family to Hamburg. In July 1943 they were there during the three nights of carpet bombing. Her unemotional description of how she survived is riveting.
After the bombing came evacuation to Bavaria and the confusion and poverty of the end of the war when she had to come to terms with the loss of family members. Her story ends happily when she meets and marries Harry who was with the British occupying forces.
If you would like to read a truthful, concise account of one person's experience growing up in Germany between the wars, then you should look at 'Astrid's Book'. It is obtainable at £6.95 from Harry Massey, 48 Holcombe Crescent, Ipswich IP2 9PW, United Kingdom. Phone 01473 683090. The book includes photographs.