On Saturday 13th we were lucky to have a perfect day a day filming some excellent machines for Tim Starkey-Smith's forthcoming history of the JCB backhoe loader. For more information about the programme see blog 24 August.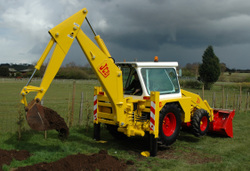 Mike Eacock of Wildmoor, near Bromsgrove, has a wonderful collection of restored machines. This is his 3DII (left), with Caribbean cab and tinted glass. The parallel lift loader comes complete with a 4-in-1 shovel. The backhoe loader dates back to 1972.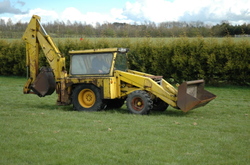 A year older, and awaiting restoration, is this rare 4DII (right).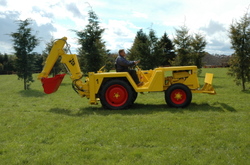 Tim Starkey-Smith put Mike's JCB1 Gravedigger (left) through its paces. It was first built in 1963.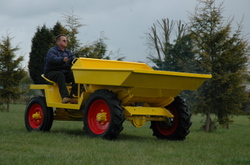 Then he showed off the 25 cwt ID Dumper (right), dating from 1964.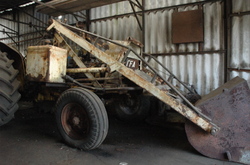 A couple of junctions north up the M5 Russell Harper showed us his early 1957 Hydradigga / Major loader (left). Not a runner - yet!