We're just back from a week in Crete. Flew out with BA on Terminal 5, Day 2 fearing the worst. No problems. No problem coming back to T5, either.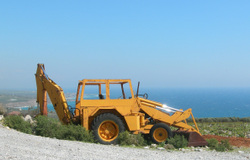 In western Crete we walked down the Imbros gorge following the path taken in 1944 by 12,000 servicemen looking to be evacuated from the island after the German invasion. The 5-mile gorge ends in the south at the Mediterranean with Africa over the horizon.
Looking towards Africa was a friend from Gt Yeldham, Essex: Hy-Mac serial no. 1225-570.