As part of Old Pond's programme of recording earthmovers at work we've just spent some time filming in northern Spain, courtesy of the Union Minera del Norte SA. Our guides were Roberto Brana and Maria del Pilar. See blog 4 May 2009 for the DVD (Massive Earthmoving Machines Pt 4) details.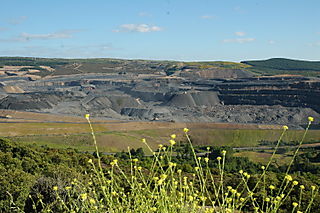 The three mines we visited were at Fabero, Tormeleo and Cerredo in north-west Leon and the Asturias. On the left is Fabero.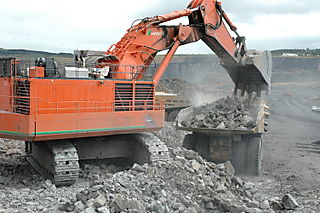 The company uses Hitachi EX5500s (right) for heavy work on the overburden at Fabero. We believe these are the only 5500s in Europe.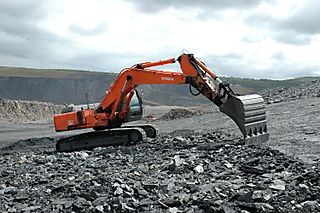 The coal seams are surprisingly shallow. The ones we saw were maybe 40 cm deep. We were told that they can be as little as 20 cm and still be economic to work. Here (left) a 350 with a specially adapted bucket is gathering on a seam.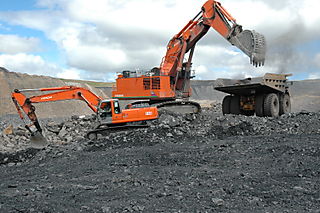 The contrast in size between the two Hitachis shows clearly when they are working together (right).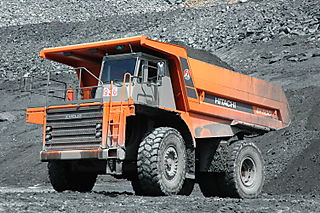 Among the dump trucks were these converted 1100s (left).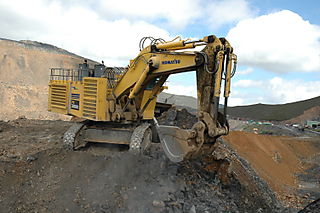 The Komatsu PC 3000 (right) is working in the Tormeleo mine.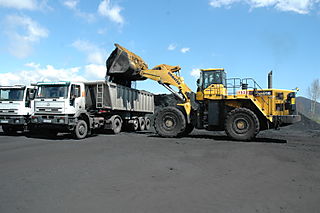 Loading coal from the stockpile at Tormeleo (left) is the highly manoeuvrable Komatsu WA800 wheel loader.
At Cerredo, high in the mountains in the very south of the Asturias, we concentrated on just one special machine: the Hitachi EX3600 (right).