The third in Old Pond's 'Massive Earthmovers' series deals with just one mine - but what an exceptional mine it is. Boliden's Aitik copper mine, north of the Arctic Circle in Sweden, is a hole 3 kilometres long, 1 kilometre wide and 400m deep. There are some photographs from it in our Blog of 18 May.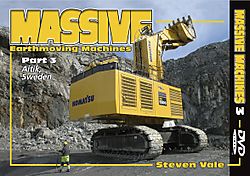 The filming has been organised and scripted by Steven Vale, European Correspondent of Earthmovers magazine. Steven shows the massive equipment and skilful organisation needed to extract 43 million tonnes of material per year. Several of these machines are the largest of their classes to be found working anywhere in Europe. The programme also contains an outstanding blasting sequence.
Massive Earthmovers Part 3: Aitik copper mine, Steven Vale, DVD approx 75 minutes, £15.95, NOW IN STOCK
Contents
Bucyrus 495B11, 1200 ton electric shovel (only one in Europe)
Caterpillar 980G wheel loader
Caterpillar 793D and C series trucks (only ones in Europe)
Bucyrus drill rig
Blasting 1.2 m tonnes of rock
Komatsu PC5500-6 electro-hydraulic excavator (first one commissioned in Europe)
Caterpillar D10N dozer
Caterpillar 16H motor grader
Control room
Caterpillar 994F mechanical wheel loader
Caterpillar D10T dozer
P&H 4100A electric shovel (only one in Europe)
Lectra Haul MT4000 diesel-electric truck (made by Unit Rig) (only ones in Europe)
Gyratory crushers, rock grinding and primary copper extraction and despatch.