(Continued from 17 June.) Full details of the DVDs are in the blog of 9 September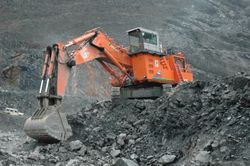 Our next call was at the Selar OCCS pit belonging to Celtic Energy. Here a Hitachi EX1900-5 was hard at work (left).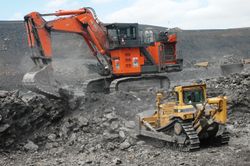 The following morning saw us at another Celtic Energy mine - the East Pit site, near Ammanford. This gave Steve the opportunity to point out the advances made by the EX1900-6 (right) on the dash five above. These included the new cab, wrist-control electronic levers, new terminals, new engine, electro-hydraulic folding stairs, new engine radiator design and a bigger fuel tank.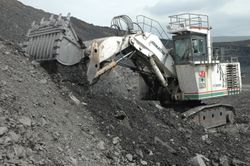 Working nearby was a 300-tonne Komatsu PC3000-1(left).
For our next day's filming Steve got us up to Scotland, to the Broken Cross open-cast coal mine at Douglas Water, Lanarkshire. The operator is Scottish Coal.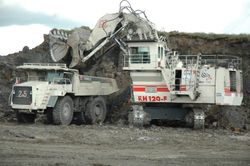 The company prides itself on its safety systems with different roads for haul trucks and support vehicles. Everywhere we went we were shown whole-hearted dust-suppression and noise-reduction systems.
Here (right) an O&K RH120-F face shovel was loading Terex TR100 trucks.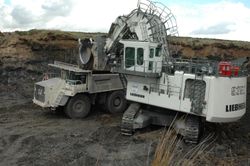 Not far away, one of Liebherr's 350-tonners, the 9350 face shovel (left) was also loading the Terex trucks - in just 55 seconds.
That night we drove down to Northumberland for two more days' filming ... continued in the blog of 12 July