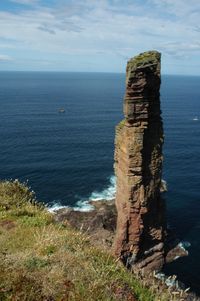 Like so many other visitors to Orkney I was keen to see the Old Man of Hoy, the stack made famous in 1966 by Chris Bonington and colleagues as the first televised climb.
To reach it you walk a couple of miles over a headland from Rackwick, which is down at sea level. However, all these boots have an erosive impact, so it was no real surprise to find some path conservation going on.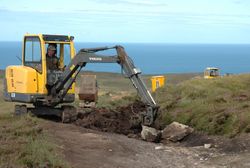 The Volvo EC30 was being operated by Andrew Coleman, one of the partners in Highland Conservation Ltd.
The company was established in 1992 by Andrew and his partner John Urquhart. After four years' practical experience Andrew obtained more training from the Ross and Cromarty Footpath Trust.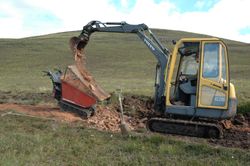 Both the EC30 and the EC20B were tracked up to the working area.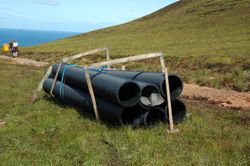 The relatively slight gradient means that the path can be restored without the escessive use of stone, and this is lighter on the walker's feet. Indeed, the path was a pleasure to be on.
Highland Conservation has a website at www.highlandconservation.com