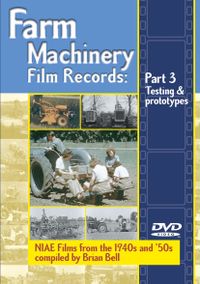 Farm Machinery Film Records Part 3: Testing and Prototypes by Brian Bell. DVD, approx 65 minutes. IN STOCK at Old Pond, £15.95 (inc VAT). 
This programme uses extracts from a collection of films made by the National Institute of Agricultural Engineering over a period of about ten years from 1945. The Institute had been established by the Ministry of Agriculture in 1942 with a remit to design prototype farm equipment and publish test reports of the performance of production tractors and farm machinery.
This programme includes clips taken from the film records made while testing farm machinery and prototype equipment at Askham Bryan, Yorkshire and Silsoe, Bedfordshire.  They include manure spreaders and fertiliser drills, planters and crop dusters, tractors, harvesters, horticultural aids and some cultivation equipment. Some of the machines went successfully into production; others are rarities whose development was curtailed.
The NIAE's film record was professionally made. The prints from which this compilation has been drawn are in the collection of the British Agricultural Archive Film Unit and are reproduced by courtesy of Richard Watts.
Brian Bell, author of 26 books and DVDs on farm machinery, has researched the footage to provide an informative commentary narrated by Chris Opperman. The original material is silent, most in black and white, some in colour.
CONTENTS
 Manure and fertiliser
James farmyard manure spreader
Ferguson TE20 with FYM loader and spreader
Massey-Harris plate and flicker fertiliser placement drill
Planting and crop protection
Three-row Robot potato planter
Russell transplanter
Williams crop duster
Tractors
NIAE hydrostatic tractor
Maxim Power Steer tractor
NIAE tractor testing
Harvesters
Hume pea windrower
Redpath forage harvester
NIAE universal root harvester
Wallace root harvester
Marbeet sugar beet harvester
Mechanical aids to horticulture
Wharton spade
Barford Atom
Colwood motor hoe
British Anzani hoe
Howard Bantam
Gem
Clifford A III
Cultivations
Howard Rotary Hoe on a Fordson
Evona disc harrow.