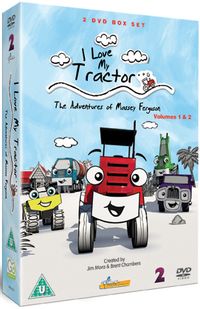 I Love my Tractor: the adventures of Massey Ferguson, 2-DVD set, approx 133 minutes, IN STOCK at Old Pond at £9.95.
This animation series from New Zealand is designed for pre/young school children to show them life in the countryside and encourage them to learn respect and appreciation for their surroundings.
The cartoons are based on a small farm near the New Zealand town of Kumara Cove where a little red tractor called Massey Ferguson lives.
At home with Massey on Ferguson Farm is a fun-loving family of vehicles including Beaut the Ute, Max Tractor, Gracie the 4WD farm bike and Mrs Milk, the milk tanker.
Massey may be only a small tractor but he's big on resourcefulness, problem-solving and pluck.