(continued from 22 July) Advance information about Ford farming 1965-95 is in the blog of 29 August 2010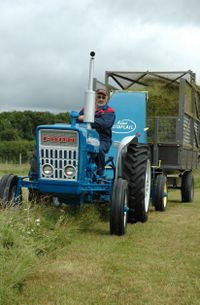 At the start of the second day, Richard Duckett drove his 1970 Ford Force 2000 (left). He was working with a Kidd 40-inch inline Rotaflail and an M-F 17-7 trailer.
The 2000 was equipped with a six-speed gearbox.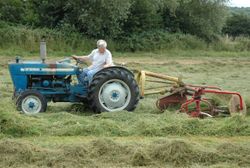 Next up was Colin Butland on his 1969 Ford 3000 (right) with a Select-O-Speed gearbox.
The hay tedder is New Holland 245.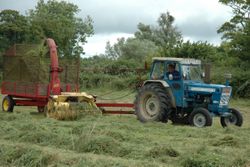 The New Holland 717 Precision Chop forage harvester (left) and Massey Ferguson 17-7 silage trailer were coupled to a 1975 Ford Force 7000.
George Langdon's tractor was being handled (gingerly) by Dennis Burston.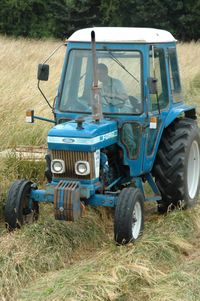 Michael Butland's 1981 Ford 4610 (left) was working with a PZ 165 two-drum mower.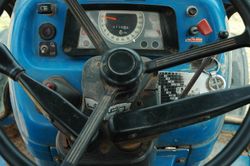 Michael had the pleasure of operating the 4610's Ford column 'Rubik's Cube' gear change (right).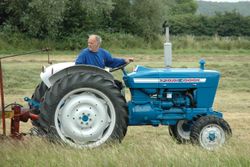 The last tractor I saw was Dennis Burston's 1973 Ford Force 4000 (left), the cab and square wings of which have been taken off.
Dennis was operating a New Holland Crop-Chopper 33 forage harvester and the M-F 17-7 trailer seen earlier.
We have more filming to do but anticipate that George French, along with Dennis and Maurice Burston and colleagues, will have a programme ready for 2010.