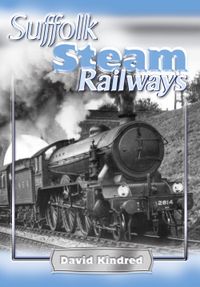 Suffolk Steam Railways by David Kindred. Paperback, 128 pages including 200 b&w photographs, ISBN 978-1-906853-17-4. IN STOCK at Old Pond at £12.95.
The 200 photographs in this book reflect the diversity and importance that steam once had in East Anglia. For a hundred years it was the main carrier of people and freight, and a major employer, even though Suffolk was a mainly agricultural county with relatively few lines.
Although the photographs go back to the 1870s, most in this selection were taken in the 1950s and '60s. They will stir many memories. The selection covers the main lines, stations and services as well as Ipswich Locoshed and Dock, the Mid Suffolk Light Railway and the branch lines. There are many shots of trains, but also evocative pictures of the men who worked the railways and their ancillary services.
David Kindred worked for over forty years as a photographer and picture editor with the East Anglian Daily Times and Ipswich Evening Star. He has been fortunate to have had the help of a number of knowledgeable local train enthusiasts in compiling the informative captions.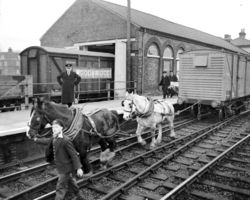 Shunting horses at Woodbridge in the 1950s (right).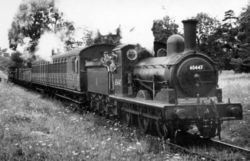 A mixed train (left) on the Laxfield to Haughley line with Joe Skinner and Jack Law on the footplate.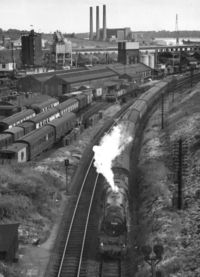 Britannia class 70005 John Milton (right) entering the Ipswich tunnel from the Stoke side, 6 June 1959. The Ipswich Locoshed with its coaling tower and the Cliff Quay power station are in the background.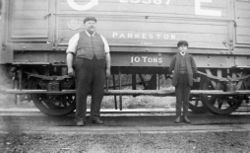 (Left) S Hearsum and B Cage, the largest and smallest employees, together at the Ipswich Locoshed in 1909.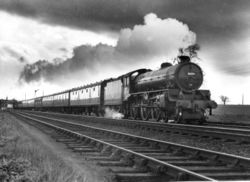 B1 61378 storming through Bentley in March 1959 (right) - another great photograph by Aubrey Frost.