Yes, have had a few days in Norway with Steven Vale and the film crew building up stock for future DVDs.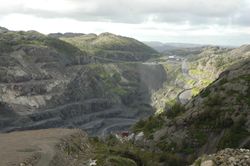 Part of the time we were in the southern province of Rogaland at the Titania ilmenite mine (left).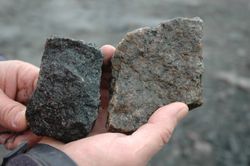 Ilmenite ore, the darker stone in the picture (right) is a dense, hard rock containing flecks of white.
These flecks are the ilmenite deposit which can be extracted and processed to form titanium dioxide, a highly white fine powder used in the manufacture of paper, paints and plastics. Someone mentioned lipsticks too.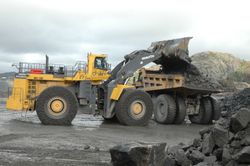 The plant has recently bought the largest mechanical wheel loader in the world, a Komatsu WA1200 (left), of which there are only two in Europe.
We watched it load 40-45 tonnes at a time, filling the the Cat 789Cs close to their capacity of 180 tonnes.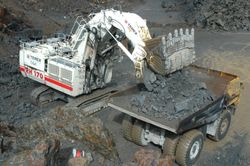 Nearby, waste material was being loaded by a Terex O&K RH 170 (right). The haulers were Cat 789Bs and a couple of elderly Unit Rig MT 3600s, as in this shot.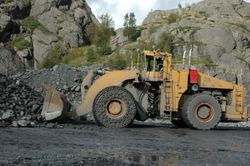 Finally, down by the primary crusher we found another well-used machine still paying its way, the LeTourneau L-1000 Letroloader (left), a model going back to the early 1980s.
And one other interesting fact about Titania in Sokndal: on 16 August 2008 Katie Melua gave a concert here as part of the local cultural festival. She was at the bottom of the mine, below sea level, watched by an audience of 6,000. One of the concert-goers told us that it was magical, not just the concert but the night-time atmosphere of the place, with coaches lined up along the mine benches.