Steven Vale's two new DVDs, Britain's Massive Miners parts 1 and 2 (see previous two blogs), focus on surface coal mining in Britain and the dedicated machinery to be found there. However, he couldn't help making a detour to a limestone quarry - Swinden quarry in the Yorkshire Dales National Park.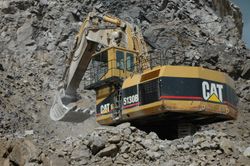 There he found a Caterpillar 5130B hard at work loading the primary crusher and aggregate conveyor.
It's the largest Cat excavator in Britain. Only two are here now, and this is the only one currently working.
There's plenty of footage of the machine in action in Britain's Massive Miners Part 2, soon to be released by Old Pond.