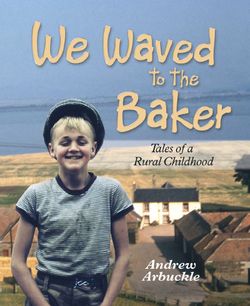 We Waved to the Baker: tales of a rural childhood by Andrew Arbuckle, hardback book, 144 pages with illustrations by Graham Lang. ISBN 978-1-906853-16-7. IN STOCK at  Old Pond Publishing at £12.95.
'We boys scuttled down.... Having had our tea, it was not really hunger that drove us on such foraging expeditions, but the sight of a large bowl of Mum's trifle....'
We Waved to the Baker is an evocative and heart-warming collection of stories from Andrew Arbuckle's youth in Fife. Through the fresh gaze of childhood, he depicts the rugged hard work of life on the farm, while capturing beautifully the essence of growing up in a boisterous family and a close rural community.
We follow the young Andrew as he deals with the trials and tribulations of school, older brothers and plucking chickens, while throwing into the mix as much mischievous play as possible.
Andrew Arbuckle comes from a Fife farming family which, like many others, could trace their roots back to the west of Scotland. The third son of a tenant farmer, Andrew went on to farm with his father in the 1970s. The farm was mainly arable, growing malting barley, seed potatoes and, before the closure of the local refining factory, sugar beet. The tenancy of the farm was given up in the late 1980s.
During his farming, Andrew contributed to a number of farming magazines and this interest developed into full-time agricultural journalism with the Dundee Courier where he was farming editor for fifteen years.
A short spell as a member of the Scottish Parliament followed between 2005 and 2007. Over the past twenty years, he has been a councillor in Fife. Nowadays, he is a freelance journalist, combining this with agricultural public relations work.
In 2009 Andrew's first book, Footsteps to the Furrow, was published by Old Pond: 'An excellent book for anyone interested in Scottish farming' (Fordyce Maxwell in the Southern Reporter).